R&D Audio Video Inc understands every home and building is unique. We customize each project to your needs and overall layout. Whether you want a home theater system that will impress any movie enthusiast or an outdoor summer oasis for parties and gatherings.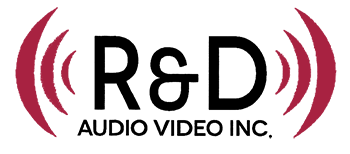 Here's What Our Clients Think
Hey Dan and the other person who was with you today. Thank you! Thanks for the amazing job you guys did. The TV looks beautiful on the wall. I unfortunately wasn't able to be home when you came but my wife was and she said you guys did amazing job. We are super happy with the work and job you did for us. I'll be recommending you to anyone and everyone I know has a TV or is getting a new one. Thank you again! Now time to kick back relax and watch my favorite movie Pulp Fiction!
Dan did a great job installing our new TV and integrating the Yamaha surround system. Dan wall mounted the TV, speakers and IR extender with all the wires hidden in the wall! It looks great, I will definitely use R&D for all future AV needs.
Reasonably priced for a cat5e retrofit, communication was clear and emails returned pre/post install in a timely fashion. Highly recommended!
We are always happy to assist you by providing our professional opinion on your project. Feel free to write or call in.